J.Y. Huang, chief executive officer (CEO) of Power & Hard Industry Co., Ltd., can never forget the rigorous training he received from the Japanese technicians around 30 years ago when apprenticing at a Japanese-run pliers-making factory in Taiwan. Fortunately the hardship had not been in vain as the Japanese, known for being meticulous and uncompromising, helped him to build a solid foundation that would eventually enable him to become an entrepreneur-Huang says that his outfit turns out the top, homegrown brand of pliers in Taiwan.

"They (the Japanese technicians) often demanded us to redo a process until they were satisfied. To say they were picky would be an understatement; however such uncompromising attitude is why I am able to deliver the high quality today," Hung says.

Huang, thanks to learning from the Japanese, is able to make pliers not only durable, but also "smart." He has been granted nine patents on 19 of 100 items or so since he set up the company in 1979. "Most of our patents are design-based-lauding durability, lightweight, innovation and labor-efficiency," he stresses.

One such patented product is a tool to tighten the two fasteners fixing the pipes through wash basins to taps. "The ingenuity of such tool is its ability to reach the two fasteners despite the usually narrow gap between the basin and wall," Huang boasts.

Other labor-efficient products include the M38, M14, M2 and PG16308. M38, M14 and M2, which feature ratchet design on the crossing point of the two cutters; while PG16308 has a concavity along the cutting edges to enhance grip of object to be cut, making easy work of cutting iron wire or electrical cable up to 4.2mm diameter. "All these tools are labor-efficient, even for female users," Huang stresses.

One heartening story that still brings a grin to Huang's face involves an Australian pliers importer. "The Australian buyer doubled back to Taipei just after touching down home after seeing our catalog of labor-efficient pliers. Totally overwhelmed upon seeing the cutters at my showroom, he exclaimed: 'That's exactly what I've been looking for,'" Huang says. This Australian said that people back home usually built fencing around houses to keep out kangaroos, while the work is usually labor-intensive that is sometimes handled by females. So Huang's labor-efficient designs suited the Australian market ideally.

Huang makes pliers mostly for professional applications such as construction, car-repair, electromechanical, electronics, leisure and recreation, and fishing industries. He says that his tools feature the advantage of extra-hard blades. "We employ high-frequency oscillation for hardening. In fact we demonstrated such amazing feature of our pliers at a trade show by cutting steel rods over 20,000 times, after which our pliers were still as sharp as ever," he says.

Power & Hard builds tools with chrome-molybdenum steel and chrome-vanadium steel supplied by China Steel Corp., Taiwan's No.1 steelmaker, while the firm coats tools with quality rustproofing oil imported from industrially advanced countries, minimizing the likelihood of oil spotting caused by substandard oils. In addition, vacuum heat treatment keeps the degree of precision of the company's tools within tight tolerances.

The company turns out 21,000 to 30,000 tools monthly and completes 80% of processing in-house with lathes, milling machines, grinders, drills, and heat-treatment systems, while it also has a range of instruments such as hardness testers to uphold the highest quality. "We only need to rely on dedicated forging and plastic-parts manufacturing subcontractors to complement our virtually integrated production," Huang says. However, his company plans to install forging capability. "We plan to expand our factory to 600 pings (one ping = 36 square feet) from the current 400 pings in 2008 to raise production capacity," he says.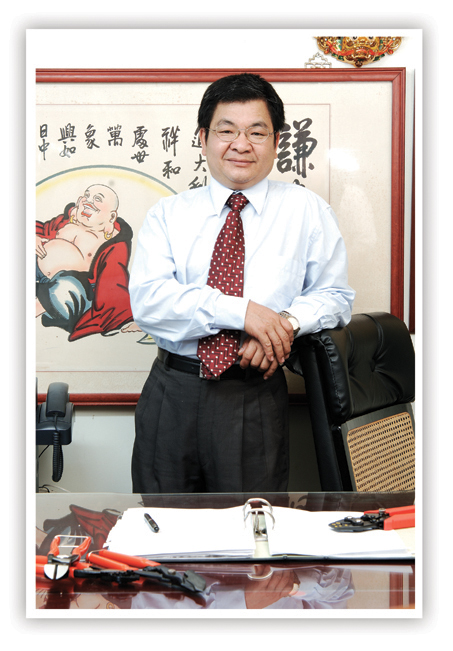 Huang: "You either innovate or be rendered obsolete."


To adapt equipment for its unusual series of production processes, Huang has tweaked most of his company's machinery instead of merely buying brand-new, off-the-shelf equipment-taking a tip again from his Japanese predecessors. "I always remember a key lesson taught by the Japanese technicians: 'You do not make quality tools out of advanced equipment but out of rich experience. So, ample experience enables you to build much better tools from middle-carbon steel than even chrome-based steel," he stresses.

Huang has insisted on producing high-quality, professional tools since he opened his business 17 years ago, which he has successfully done by clinging to turning out small volumes with diversified designs. "Quality is easier to control with small-volume production than otherwise simply because small batches allow QC technicians to examine virtually every piece that comes off the line," he stresses. "Also noteworthy is that, despite the widely-reported, attractive manufacturing conditions offshore and rising costs at home, I have been able to stay successful in my line in Taiwan ever since setting up my business," he adds.

Power & Hard meets global industrial standards-with products conforming to ANSI, DIN and GIS; while good quality and designs have helped boost his sales by 3-4% annually over the past few years.

In Retrospect

Huang, at 50 or so, began his career at 13 in the pliers-making segment due to a stroke of fate-"I just graduated from elementary school and had no choice but go to work because my family was poor after my parents had lost money to a community self-help fund. So my eagerness to attend junior high school was dashed; however, such disappointment was later soothed somewhat by the sense of achievement derived from supporting my family. It was a rocky road because apprenticing did not allow me to make much money at all, but I helped ease my parents' financial burden and learned to make pliers," he recalls.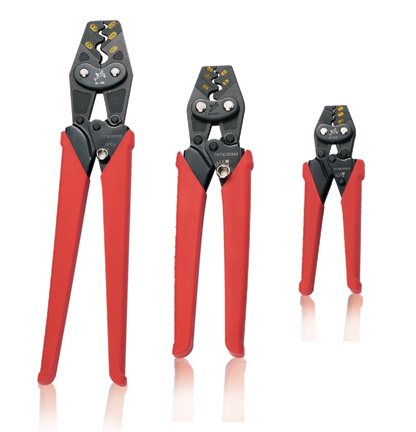 Power & Hard`s pliers involve ample brainstorming over design.


After being discharged from the army, Huang set up a subcontracting business to process metal parts, and later diversified into a pliers manufacturer at 26 years of age. "Since then I've focused on making user-friendly tools. Household users find our tools simply more convenient for tasks around the home; while professional users can find in our range a tool for virtually every dedicated application. In other words, we now offer over 100 tools designed for equally as many specific purposes," he says.

Putting himself in the tradesman's or professional user's shoes, Huang consciously considers materials and design before developing each new tool. For instance, before starting to make an oil filter wrench, his company consulted the government-sponsored Chung-Shan Institute of Science and Technology over the material formula for such tool.

Huang does not wince when he claims that his company's tools absolutely outperform counterparts made by locals and foreign rivals in terms of quality. "You either innovate or be rendered obsolete. You must not merely follow conventional wisdom or be complacent if you want to realize substantial growth in your business," he concludes.